Australia: Sunday Style magazine forced to apologise over sexist ad for interns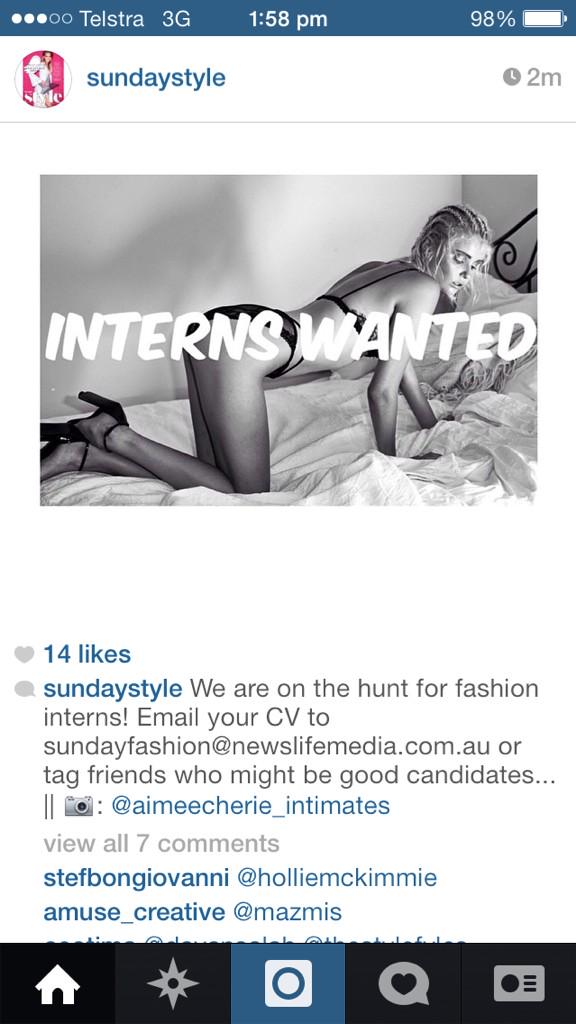 This does seem a bit gross. Porno interns. Is it a brothel?
Interns: always having to fetch coffees and brownies for their bosses without getting paid, and while uncomfortably dressed in skimpy lingerie too. Uh, according to Murdoch's News Corp anyway.
Sunday Style, the company's weekly fashion and beauty insert, was forced to apologise on Friday after posting a bizarre job ad for intern positions.
"We are on the hunt for fashion interns," went the magazine's advert, accompanied by a picture of a woman in lingerie posing on a bed. (Nope, not even a photocopier in sight).
The image was quickly deleted after criticism from Twitter and Instagram users, who called the ad "sexist" and "offensive".
The magazine - a liftout in The Sunday Telegraph and Herald Sun with a circulation of almost 900,000 - later replaced the post with an apology for their "error in judgement".
SOURCE