Student suspended for "wrong" view of abortion
Expressing her view was "bullying"
It is alleged that two students were talking about abortion at school and discussed a hypothetical situation in which one would be faced with the choice of keeping a baby if it were known to have special needs.
When one girl, who has a disability, asked the other her opinion on the matter, the student said that yes, she would abort.
The questioner, insulted by the harsh nature of the other student's sentiments, went to the school administration with her concerns.
In a Facebook post, the student who was suspended over alleged bullying outlined her side of the story.
"We were part of a class where students freely shared their thoughts, opinions and beliefs," read the post. "I have always been hesitant to express myself when I was speaking with this student, I told them that I didn't want to offend them with any of my opinions."
Halton District School Board superintendent Scott Podrebarac said they cannot comment on the specific incident. "I know this is being positioned as a free-speech case," he said. "If free speech harms someone, then there is a toll. There are limits to free speech when it harms an individual."
[So who was harmed??]
Nicole Rees, Shelley Popp and Tina McFadden say staff at the school asked the girl to apologize for her comments, to which she refused and then wrote a poem titled "Not Sorry."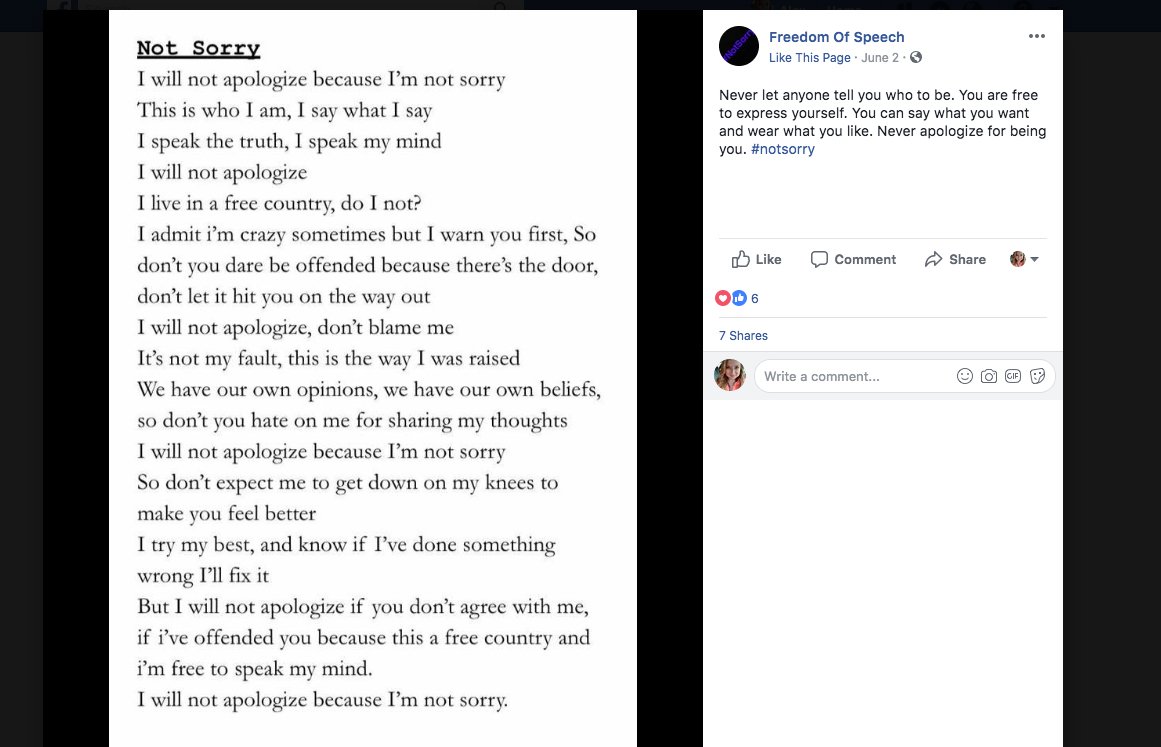 Later, other students wore to school T-shirts with the poem printed on them, and they were subsequently suspended as well for contributing to the alleged bullying.
"The moment they told her to apologize they infringed on her rights," said Nicole Rees, a local parent who is helping organize the protest. "Whether you agree with her or not isn't the issue, they're viewing it as a hate statement."
SOURCE